Monster High Online Coloring Pages
Color Skylanders Pages online from your Computer or tablet
All time most popular Monster High Online Coloring Pages
More popular Monster High pages for online coloring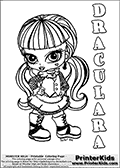 Draculaura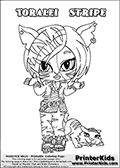 Toralei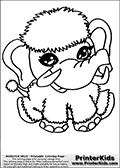 Clawdeen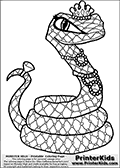 Cleo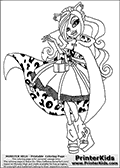 Draculaura

Clawdeen
Try somthing new with online coloring
One of the really cool things about the online Monster High coloring pages is, that you can add things to coloring pages that are close to impossible to add with printed coloring pages.
You can use the online coloring pages to make your own fun scenes and stories by adding effects from the different sprays to the colored characters.
If for instance you feel like creating a landscape out of candy in front of the Monster High character - then all you need to do is to select the Sweets Spray and add all sorts of different candy to the online coloring page.
You can also move your character to a volcanic island by drawing a volcano ad add fire from the elements spray to the volcano!
Monster High Online Coloring Demo
QID: online-coloring/monster-high
File:
Keywords: monster
Content Type:
Page Url: http://www.printerkids.com/online-coloring/monster-high.html