Hearthstone Videos
You can find videos recorded while playing Hearthstone in this section.
You can find videos with games recorded while playing Arena games, guides and examples of completing Hearthstone Daily Quests and also Ranked Play ladder climb videos.
Class Arena Videos
Arena is one of the play modes you can enjoy with Hearthstone. It is a randomized tournament like event where you need to build a deck with a random range of cards. Arena sessions always end with a prize for the player, from gold cards and packs of cards to dust that can be used for crafting and gold coins.
The Printerkids Hearthstone video section has Arena videos that show many different games being played, from the deckbuilding process to the rewards!
Mage Arena
March 4, 2014; This Mage arena session was very fun to play, and I managed to complete it with a 9-3 score. I had some great duels and drafted a deck with Leeroy Jenkins that I figured was pretty much as good as a Fireball that had the potential of a double-use.

I had some great opponens and managed to win a duel with another Mage that got Archmage Antonidas down.

The arena session reward ( LOOT ! ) included a golden card, more gold coins than the entry cost and of course a pack of cards.
Warlock Arena
March 2, 2014; This Warlock arena session was the first session I recorded. I managed to beat my personal record with 9 wins total (up from 8!) even though I made several mistakes and had a small bug target my hero with a Drain Life spell.
I was able to draft Lord Jaraxxus during the deck creation, and finished several games while transformed into Lord Jaraxxus!

This Warlock arena session has 14 battles in total, 9 where I win and three where I loose.

Daily Quest Videos
Hearthstone has several Daily Quests that players can complete in order to "earn" gold coins that can be used to buy card packs with Expert cards, or to enter the Arena.
The Hearthstone videos in the Daily Quests section show how faily cheap and simple decks can be made and how the quests can be completed.
Druid Dominance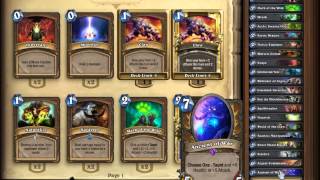 March 6, 2014; This video series show how a simple deck can be made, and how it can be played to complete the Druid Dominance daily quest. The video series also show how the deck can be revised / optimized and how it looks when the quest is completed.
Spell Mastery with Druid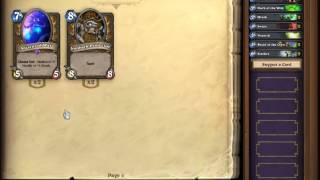 March 6, 2014; This video show how the Spell Mastery daily quest can be completed with a simple Druid hero class deck in very little time.