Warhammer 40k Imperium Of Man Coloring Pages
Warhammer 40000 Imperium of man coloring pages
You have reached a mini sub-section of the PrinterKids.com coloring page area dedicated to Warhammer 40K coloring pages with the artwork related to the Imperium of Man. This page currently lead to the Space Marines sub-category only.

Once more coloring pages are ready, additional categories will be added!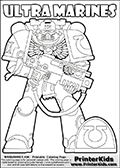 Our Space Marine coloring page section has 7 different kids printables at thist ime. These pages show a single Space Marine on an A4 sized sheet along with a colorable text with the Space Marint chapter name.

Use the kids activity printables to have fun with the letters that make up the Space Marine chapters such as "DARK ANGELS" and "IMPERIAL FISTS".
VIEW COLORING PAGES WITH SPACE MARINES
Printerkids is part of the
SecretCasinoClub network
that also offer
free slot machine games
to play via your browser such as
Book of Ra
,
Pink Panther
and Marvel slots such as
Blade
,
Fantastic Four
and
X-Men
.
Related website:
Coloring-Print.com