Smurfs Smurfette Educational Symbol Coloring Pages
The Smurfs Smurfette Educational Symbols Coloring Pages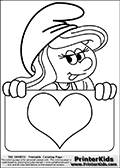 The Smurfette educational symbol coloring pages are very simple in their design. The colouring sheets show Smurfette holding a board with a single large symbol on it. There are no letters or numbers - just large symbols for coloring. Some of the educational symbol coloring pages have smaller symbols - and lines that can be used for writing on. The educational pages with lines are ideal for the children that want to try and spell the symbol words. The WORDS coloring page section below have coloring pages with all the words needed for reference or practice!


SMURFETTE EDUCATIONAL LARGE SYMBOL COLORING PAGES
The educational symbol coloring pages in this category all show a single large symbol on a board with Smurfette.
SMURFETTE EDUCATIONAL SMALL SYMBOL COLORING PAGES
The educational Smurfette symbols coloring pages below all have small symbols in addition to lines where the symbol name can be written.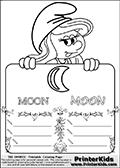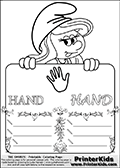 The educational colouring sheets with Smurfette and words are pages ment as spelling and writing teasers for the most skilled preschool children. Most of the pages have a symbol and several lines that can be used to practice writing the symbol word on. The educational coloring pages with prewritten words have these written in either UPPERCASE or lowercase - and with two different fonts.
VIEW COLORING PAGES WITH SMURFETTE WORDS
Printerkids is part of the
SecretCasinoClub network
that also offer
free slot machine games
to play via your browser such as
Book of Ra
,
Pink Panther
and Marvel slots such as
Blade
,
Fantastic Four
and
X-Men
.
Related website:
Coloring-Print.com