Smurfs Smurfette Educational Coloring Pages
The Smurfs Smurfette Educational coloring pages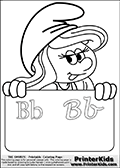 You have reached a section of the PrinterKids.com coloring page and kids activity area dedicated to The Smurfs educational coloring pages with Smurfette! Our educational Smurfette colouring sheet section is quite new (February 2014), but we still have close to 150 different printable sheets with Smurfette and letters, numbers or symbols.

In order to make it as easy and enjoyable as possible for you to find exactly the Smurfette educational coloring page(s) you are looking for, the section has been divided into categories that you can access via the images or links below!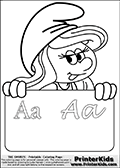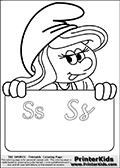 The first batch of educational coloring pages with Smurfette and letters feature the letters from A-Z in an UPPERCASE and lowercase version. Each colouring sheet has a letter written 4 times, an UPPERCASE and lowercase variant with two different fonts.

The educational letter practice colouring sheets can be used as regular coloring pages - this will allow the youngest artists to simply familiarize themselves with the shape of the letters and even the name if you help them. The letters are drawn with a colorable center so they can be colored "as they are".
More skilled young artists can try to write the letters below or around the ones that are already on the page, and if they are up for the challenge - they can try to write the letters in both font variants! The coloring pages with letters can also be printed, colored and used as alphabet posters in your childs room!
VIEW COLORING PAGES WITH SMURFETTE LETTERS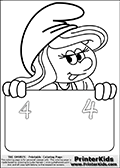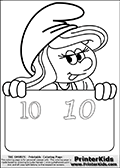 The educational Smurfette number activity pages for kids are similar to the ones with letters. In the number practice colouring sheets, a number is drawn two times with different fonts. The numbers can be colored, and the activity pages has plenty of room for kids to practice drawing the numbers themselves.

The Smurfette educational number coloring pages are available with the numbers:
0, 1, 2, 3, 4, 5, 6, 7, 8, 9, 10


VIEW COLORING PAGES WITH SMURFETTE AND NUMBERS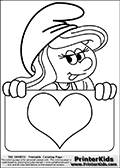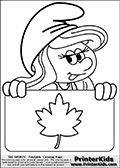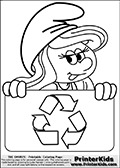 The Smurfette educational symbol coloring pages are very simple in their design. The colouring sheets show Smurfette holding a board with a single large symbol on it. There are no letters or numbers - just large symbols for coloring. Some of the educational symbol coloring pages have smaller symbols - and lines that can be used for writing on. The educational pages with lines are ideal for the children that want to try and spell the symbol words. The WORDS coloring page section below have coloring pages with all the words needed for reference or practice!
VIEW COLORING PAGES WITH SMURFETTE EDUCATIONAL SYMBOLS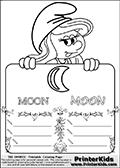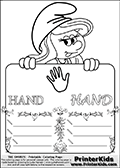 The educational colouring sheets with Smurfette and words are pages ment as spelling and writing teasers for the most skilled preschool children. Most of the pages have a symbol and several lines that can be used to practice writing the symbol word on. The educational coloring pages with prewritten words have these written in either UPPERCASE or lowercase - and with two different fonts.
VIEW COLORING PAGES WITH SMURFETTE WORDS
ALL EDUCATIONAL SMURFETTE COLORING PAGES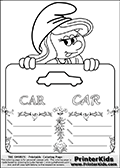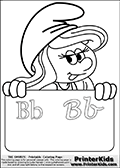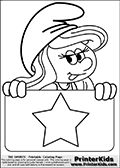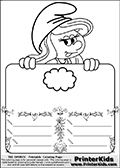 Smurfette coloring pages will be made every now and then, when new ideas pop up and when time to work on them come. If you want to check for Smurfette coloring pages that aren't covered by the categories above - or if you simply want to browse all the different Smurfette educational coloring pages here at PrinterKids.com - on one page...

Then this is where you should go!

The page may take a while to load since all of the kids printable activity sheets with Smurfette educatioal options will be shown!
VIEW ALL EDUCATIONAL COLORING PAGES WITH SMURFETTE
Printerkids is part of the
SecretCasinoClub network
that also offer
free slot machine games
to play via your browser such as
Book of Ra
,
Pink Panther
and Marvel slots such as
Blade
,
Fantastic Four
and
X-Men
.
Related website:
Coloring-Print.com