Smurfs Smurfette Coloring Pages
The Smurfs coloring pages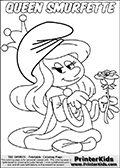 You have reached a section of the PrinterKids.com coloring page and kids activity area dedicated to The Smurfs coloring pages with the one-and-only Smurfette! Our Smurfette colouring sheet section is quite new (February 2014), but we still have close to 100 different printable sheets with the darling Smurfette character and many more in the works.

In order to make it as easy and enjoyable as possible for you to find exactly the Smurfette coloring page(s) you are looking for, the section has been divided into categories that you can access via the images or links below!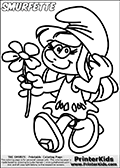 Smurfette love flowers, and it simply wouldn't be fair if we didn't have a printable colouring sheet section dedicated to Smurfette with flowers.

The Smurfette with Flower coloring print section is dynamically updated each time new coloring pages are added, and if Smurfette and one or more flower is tagged in it, - this is where you will be able to find it.

Some coloring pages will feature Smurfette with a single annonymous flower in her hand, others will picture her with a rose or something completely different.

Coloring pages in this category may also include printable sheets with Smurfette that has a flower themed border or frame.
VIEW COLORING PAGES WITH SMURFETTE AND FLOWER(S)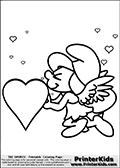 With Smurfette around, there is often love in the air. This Smurfette coloring page section is about two things, Smurfette and Hearts! It doesn't matter if Smurfette is drawn as a cupid angel flying with a large heart, or if Smurfette is pictured in front of a background filled with tiny hearts.

If the coloring print page has both Smurfette and one or more hearts - then this is the place to find it.

Looking to send someone that Valentines drawing?


VIEW COLORING PAGES WITH SMURFETTE AND HEART(S)
EDUCATIONAL SMURFETTE COLORING PAGES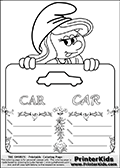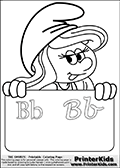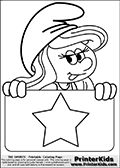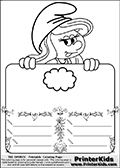 The PrinterKids.com coloring pages are not only ment for kids to have fun with. Many of them are designed to help preschool children familiarize themselves with the shapes and sounds of letters - or even as spelling help for sample words. Our section of Smurfette Educational Coloring pages are all designed as teasers for preschool kids. They are ideal as activities during vacations or as practice tools if a certain letter is proving hard to master.

The (around 150) educational coloring sheets with Smurfette are available as letter (and number) practice, simple symbols and sample spelling pages.
VIEW EDUCATIONAL COLORING PAGES WITH SMURFETTE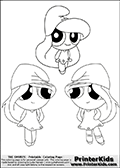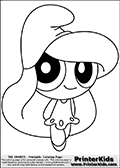 Sometimes more simple... Simply is more cute! The Smurfette Power Puffed coloring pages are super simplified printable kids activity pages where Smurfette is drawn for coloring. The styled used to illustrate Smurfette is similar to what you may find on kids carttons such as The Power Puff Girls.
VIEW COLORING PAGES WITH POWER PUFFED SMURFETTE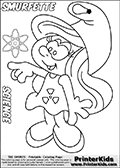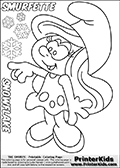 Every once in a while, a girl has to point at something, or stretch out a finger to catch a snowflake or provide a landing lane for a butterfly... Coloring pages where Smurfette is pointing or stretching out a finger are covered in this category.
VIEW COLORING PAGES WITH SMURFETTE POINTING
ALL SMURFETTE COLORING PAGES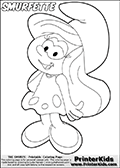 Smurfette coloring pages will be made every now and then, when new ideas pop up and when time to work on them come. If you want to check for Smurfette coloring pages that aren't covered by the categories above - or if you simply want to browse all the different Smurfette coloring pages here at PrinterKids.com - on one page...

Then this is where you should go!

The page may take a while to load since all of the kids printable activity sheets with Smurfette will be shown!
VIEW ALL COLORING PAGES WITH SMURFETTE
Printerkids is part of the
SecretCasinoClub network
that also offer
free slot machine games
to play via your browser such as
Book of Ra
,
Pink Panther
and Marvel slots such as
Blade
,
Fantastic Four
and
X-Men
.
Related website:
Coloring-Print.com