Smurfs Coloring Pages
The Smurfs coloring pages
You have reached a section of the PrinterKids.com coloring page area dedicated to The Smurfs coloring pages. This page currently lead to the Smurfette, Vexy Smurf and Power Puffed styled printable activity pages with Smurfette and Vexy Smurf. More than 150 Smurf coloring pages are available for printing or coloring online at this time.

Once more coloring pages are ready, additional categories will be added!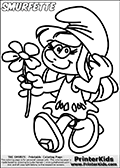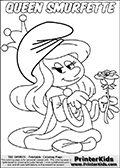 Our The Smurfs Smurfette coloring page section is dedicated to the first and probably most popular smurf of them all - Smurfette.

The long haired blonde cutie has appeared in dozens of animated (or drawn) cartoons, movies and comics.
Gadgets, Gizmos and Merchandise in all imagineable categories.. Yes, You'll find it with this little girl!

The Smurfette kids activity sheets range from simple pages with large colorable drawings to more advanced coloring pages with names and words that can be colored and smaller or more detailed character illustrations.
VIEW COLORING PAGES WITH SMURFETTE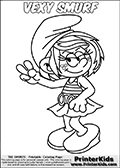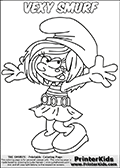 Our The Smurfs Lexy Smurf coloring page section is dedicated to the newest female smurf that was introduced globally with the movie The Smurfs 2. The Lexy Smurf printable sheets range from pages with a single large character drawing to more advanced sheets with words, small figures and background images or effects.
VIEW COLORING PAGES WITH VEXY SMURF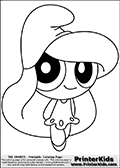 Our The Smurfs Power Puffed section is a fun section of simplified coloring pages. The character illustrations in this kids activity section are drawn in a style similar to what you'll see with the series The Power Puff Girls where characters are even more simplified than the classic smurfs are.
VIEW COLORING PAGES WITH POWER PUFFED SMURFS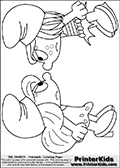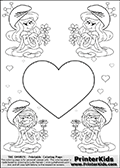 Female smurfs are just so amazingly cute that a section with nothing else than coloring pages with both Lexy Smurf and Smurfette had to be made. The printable activity pages in this category has everything from valentines themed love colouring sheets to angry smurf girls and dancing ones!
VIEW COLORING PAGES WITH SMURFETTE & LEXY SMURF
Printerkids is part of the
SecretCasinoClub network
that also offer
free slot machine games
to play via your browser such as
Book of Ra
,
Pink Panther
and Marvel slots such as
Blade
,
Fantastic Four
and
X-Men
.
Related website:
Coloring-Print.com